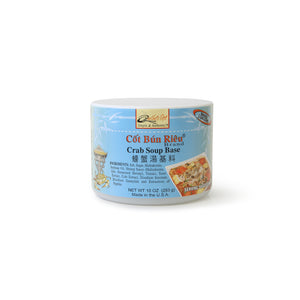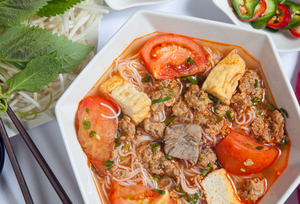 Cốt Bún Riêu® Brand (Crab Soup Base) 10-oz
Crab Soup Base 10-oz (Cốt Bún Riêu® Brand).
Who else loves Vietnamese Crab Noodle Soup ( Bún Riêu) ✋ but can never find the time to actually MAKE it from scratch? Thanks to our Soup Base, you can now make this delicious dish in an hour or less. Enjoy the authentic Vietnamese flavors, without any of the hassle. 
Serving Size: One 10-oz Jar can make up to 20 servings! 
🚫 NO MSG Added
🚫 NO Preservatives 
✅ ALL Natural Ingredients
✅ Gluten Free
✅ Made in the USA
Follow our easy recipe (& subscribe to our Youtube Channel!):
Ingredients: Salt, Sugar, Shrimp Sauce, Partially Hydrogenated Soybean Oil, Crab Extract with Maltodextrin, Tomato, Autolyzed Yeast Extract, Dextrose, Disodium Guanylate, Disodium Inosinate and Oleoresin of Paprika.
Contains: Crustacean (crab) 
Good Crab soup base, my son loves it when I cook bun rieu