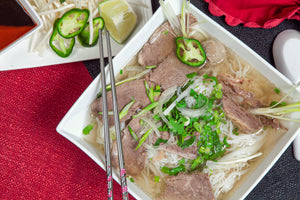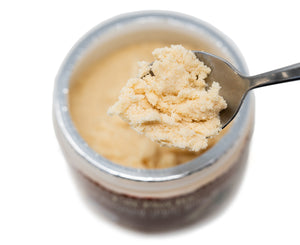 Cốt Phở Bò® Brand (Beef Flavored "Pho" Soup Base) 10-oz
Beef Flavored "Pho" Soup Base (Cốt Phở Bò® Brand) 10-oz
There's nothing like enjoying a bowl of beef pho with friends and family in the comfort of your own home. However, traditional cooking methods for Vietnamese beef pho require lots of "know how" plus about 5 hours prep time. Quoc Viet foods has achieved the impossible, that is to "convert the traditional Vietnamese cuisine into a convenient form" while maintaining the aromatic delicious flavors expected of such a dish. We've eliminated all the guess-work out of preparing these flavorful dishes. This means for those who never made or tasted Vietnamese soup you can now get the real thing, easily and quickly.
1 10-oz Jar can make up to 20 bowls of Pho! 
🚫 NO MSG Added
🚫 NO Preservatives 
✅ ALL natural ingredients
✅ Vegan Certified Option Available for purchase! 
✅ Gluten Free
✅ Made in the USA
Ingredients: Salt, Sugar, Beef Fat, Beef Stock, Spices, Dextrose, Yeast Extract, Fish Sauce (Fermented Anchovies and Maltodextrin), Disodium Inosinate and Diodium Guanylate. Spice filter bags packed separately inside.
Contains: Fish (fish sauce) 
Beef pho soup base
Tastes incredible and makes cooking pho so quick and easy!
I like the products
It's very nice and convenient.